Endukura Babu song lyrics penned by Kasarla Shyam, music composed by Amrish, and sung by Revanth & Rahul Sipligunj from the movie Rules Ranjann.
---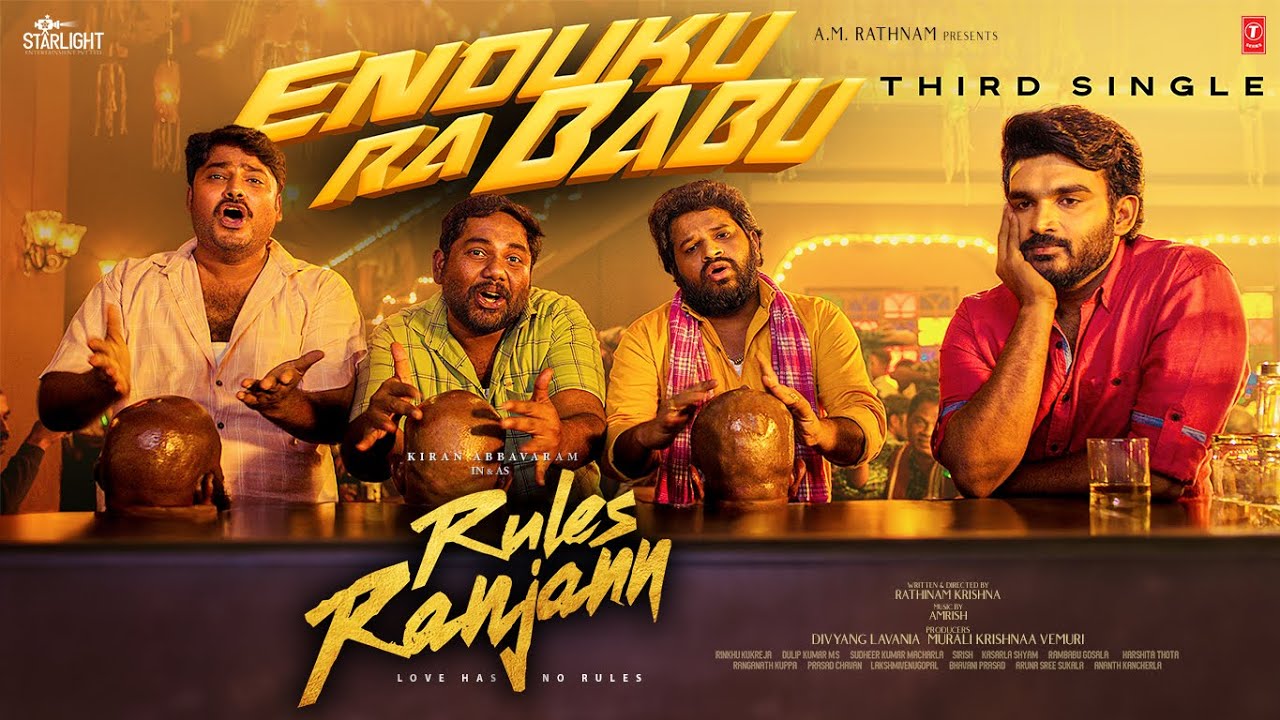 ---
| | |
| --- | --- |
| Song Name | Endukura Babu |
| Singer | Revanth & Rahul Sipligunj |
| Music | Amrish |
| Lyricst | Kasarla Shyam |
| Movie | Rules Ranjann |
---
Endukura Babu Song lyrics
Endukura Babu Song Lyrics in English

Endukura Babu
Konchem Aagara Babu

Enduku Ra Babu
Konchem Aagara Babu
Nee Cheddi Friends
Isthunnam Advice
Vinaraa O BossU
Lekunte Neeku LossU

Mana LocalU Bar Ye, Ye Ye YeYe
Mana LocalU Bar Ye
Five Staranukora Mama
Ee Mansion House Ye
Ambani House Anukoraa

Arre Enduku Ra Babu
Arre Endukura Babu
Andhani Sandamama Kosam
Nuvve Aasha Padathaavu
Are Endukura Babu
Arre Endukura Babu
Acham Appadame Thanalaga Undani
Sardhukoni Povu

Audi Car Ayina Kooda
Aakaashamlo Pone Podhu
Ee Malupula Daarullo
Auto Sukhamele

SevenU SeaterU'lo Unna
Heaven Ye Choodachhura Kanna
Hey Dhorikindhe Tirupathi Laddu
Anukunte Verry Guddu
Lekunte LifeU'la Manaku
Migiledhi Gundu

Leni Shoes Ki Edvaddhu
Unna Kaallani Chey Muddhu
Raaji Padithe Raja Laaga
Bathikesthaavani Maravaddhu

Prathi Okka WifeU
Six Pack Korithe Ettaa
Family Packollu
Yaadiki Povaalantaa

Kodini Nemalanukuntaaru
Thoduga Manatho Untaaru
Pakka Inti Anjali Lona
Angel Chooseyraa BrotherU

Ekkindhe Ekkindhe
Ekkindhi DoseU
Karige Kalalaa IceU
Pagilindhi GlassU
Naa HeartU Ku Maathram Telusu

Naa Love Seesa, Aa Aa AaAa
Naa Love Seesaa
Ee Road'dupai Visiresaa
Sarikotha Visa Ee Roje
Malli Terisaa

Are Endukura Babu
Manaki Endukura Babu
Meere Cheppindhintaa
Cheripothaa Compromise Clubbu

Endukura Babu Song Lyrics in Telugu

ఎందుకురా బాబూ
కొంచెం ఆగరా బాబూ

ఎందుకురా బాబు
కొంచెం ఆగురా బాబు
నీ చెడ్డీ ఫ్రెండ్స్
ఇస్తున్నమ్ అడ్వైజు
వినరా ఓ బాసు
లేకుంటే నీకు లాసు

మన లోకలు బారే, ఏ ఏ ఏ
మన లోకలు బారే
ఫైవ్ స్టారనుకోరా మామ
ఈ మాన్షన్ హౌసే
అంబానీ హౌసనుకోరా

అర్రె ఎందుకురా బాబు
అర్రె ఎందుకురా బాబు
అందని సందమామ కోసం
నువ్వే ఆశ పడతావు
అరె ఎందుకురా బాబు
అర్రె ఎందుకురా బాబు
అచ్చం అప్పడమే తనలాగా ఉందని
సర్దుకొని పోవు

ఆడి కారైనా కూడా
ఆకాశంలో పోనే పోదు
ఈ మలుపుల దారుల్లో
ఆటో సుఖమేలే

సెవెను సీటరులో ఉన్న
హెవెనె చూడచ్చురా కన్నా
హే దొరికిందే తిరుపతి లడ్డు
అనుకుంటే వెర్రీ గుడ్డు
లేకుంటే లైఫుల మనకు
మిగిలేదీ గుండు

లేని షూసుకి ఎడ్వద్దు
ఉన్న కాళ్ళని చెయ్ ముద్దు
రాజి పడితే రాజా లాగా
బతికేస్తావని మరవద్దు

ప్రతి ఒక్క వైఫు
సిక్స్ ప్యాక్ కోరితే ఎట్టా
ఫ్యామిలీ ప్యాకోళ్ళు
యాడికి పోవాలంటా

Advertisement
కోడిని నెమలనుకుంటారు
తోడుగ మనతో ఉంటారు
పక్క ఇంటి అంజలి లోన
ఏంజెల్ చూసెయ్ రా బ్రదరూ

ఎక్కిందే, ఎక్కిందే
ఎక్కింది డోసు… కరిగే కలలా ఐసు
పగిలింది గ్లాసు
నా హార్ట్ కు మాత్రం తెలుసు

నా లవ్ సీసా, ఆ ఆ ఆ ఆ
నా లవ్ సీసా… ఈ రోడ్డుపై విసిరేసా
సరికొత్త వీసా ఈ రోజే మళ్ళీ తెరిసా

అరె ఎందుకురా బాబు
మనకి ఎందుకురా బాబు
మీరే చెప్పిందింటా
చేరిపోతా కాంప్రమైస్ క్లబ్బు

Watch Endukura Babu Song Video
Endukura Babu song frequently asked questions
Check all frequently asked Questions and the Answers of this questions
This Endukura Babu song is from this Rules Ranjann movie.
Revanth & Rahul Sipligunj is the singer of this Endukura Babu song.
This Endukura Babu Song lyrics is penned by Kasarla Shyam.