Idi Kadaa song lyrics penned by Bhaskara Bhatla, music composed by Kalyani Malik, and sung by Lipsika Bhashyam from the movie Phalana Abbayi Phalana Ammayi.
---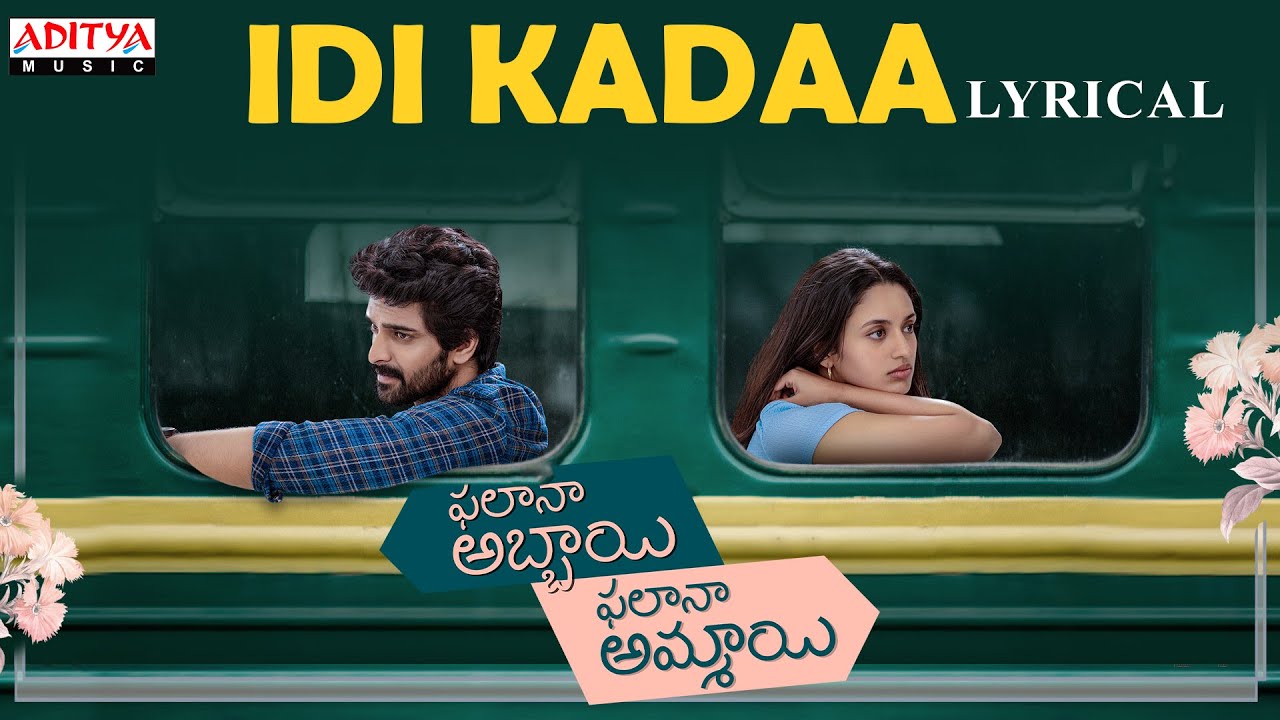 ---
| | |
| --- | --- |
| Song Name | Idi Kadaa |
| Singer | Lipsika Bhashyam |
| Music | Kalyani Malik |
| Lyricst | Bhaskara Bhatla |
| Movie | Phalana Abbayi Phalana Ammayi |
---
Idi Kadaa Song lyrics
Idi Kadaa Song Lyrics in English

Idi Kadaa Manasuke Modati Vedukaa
Kanulake Tholi Tholi Kalala Vedikaa
Okariki Okarani Telisipoyaaka
Adugulo Adugule Chivaridhaaka

Chinukuki Chiguriki
Naduma Haayiga
Modalaye Kathanamu
Mugisipodhugaa

AanandaMaanandaMaanandamaaye
Daaranthaa Pooseti Punnaagalaaye
Mounaalu Malli Maataadukuntu
Mabbullo Oogesaaye

AanandaMaanandaMaanandamaaye
Gaalemo Gandhaalu Challesi Poye
Dhooraalu Anni Daaraalla Maari
Iddharni Alleshaaye

AanandaMaanandaMaanandamaaye
Vevela Varnaala Vaibhogamaaye
Kaalaalu Anni Maimarachipoyi Choosaaye

Idi Kadaa Song Lyrics in Telugu

ఇది కదా మనసుకే మొదటి వేడుకా
కనులకే తొలి తొలి కలల వేదికా
ఒకరికి ఒకరని తెలిసిపోయాకా
అడుగులో అడుగులే చివరిదాకా

చినుకుకి చిగురుకీ నడుమ హాయిగా
మొదలయే కథనము ముగిసిపొదుగా

ఆనందమానందమానందమాయే
దారంతా పూసేటి పున్నాగలాయే
మౌనాలు మళ్ళీ మాటాడుకుంటూ
మబ్బుల్లో ఊగేసాయే

ఆనందమానందమానందమాయే
గాలేమో గంధాలు చల్లేసి పోయే
దూరాలు అన్నీ దారాల్లా మారి
ఇద్ధర్ని అల్లేశాయే

ఆనందమానందమానందమాయే
వేవేల వర్ణాల వైభోగమాయే
కాలాలు అన్నీ మైమరచిపోయి చూసాయే
Watch Idi Kadaa Song Video
Idi Kadaa song frequently asked questions
Check all frequently asked Questions and the Answers of this questions
This Idi Kadaa song is from this Phalana Abbayi Phalana Ammayi movie.
Lipsika Bhashyam is the singer of this Idi Kadaa song.
This Idi Kadaa Song lyrics is penned by Bhaskara Bhatla.