Ramachandraya Janaka song lyrics penned by Ramadasu Keertanalu, music composed by Ramadasu Keertanalu, and sung by Ramadasu Keertanalu from the movie Lord Rama Mangala Harathi.
---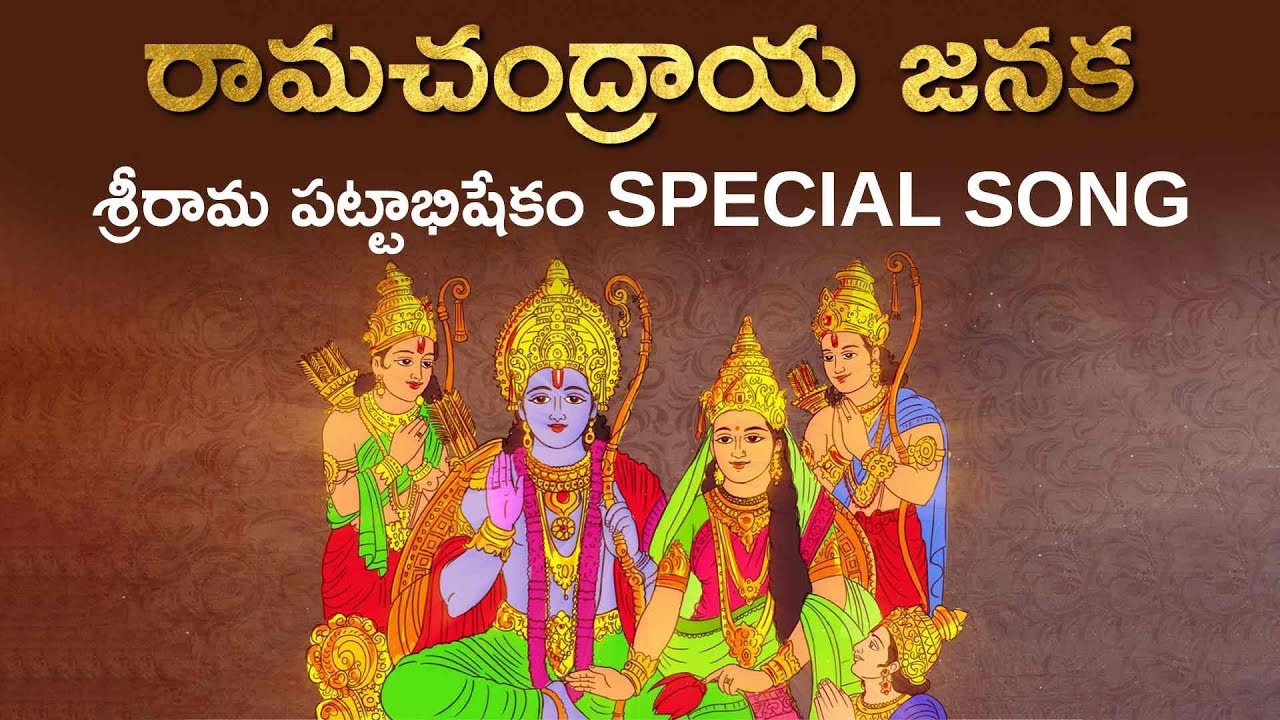 ---
| | |
| --- | --- |
| Song Name | Ramachandraya Janaka |
| Singer | Ramadasu Keertanalu |
| Music | Ramadasu Keertanalu |
| Lyricst | Ramadasu Keertanalu |
| Movie | Lord Rama Mangala Harathi |
---
Ramachandraya Janaka Song lyrics
Ramachandraya Janaka Lyrics In Telugu

రామచంద్రాయ జనక రాజ జా మనోహరాయ
మామకాభీష్టదాయ… మహిత మంగళం

రామచంద్రాయ జనక రాజజా మనోహరాయ
మామకాభీష్టదాయ… మహిత మంగళం
కోసలేశాయ మందహాస… దాస పోషణాయ
వాసవాది వినుత… సద్వరాయ మంగళం

చారు కుంకుమోపేత… చందనాని చర్చితాయ
హారకటక శోభితాయ… భూరి మంగళం

లలిత రత్నకుండలాయ… తులసీవనమాలికాయ
జలజ సదృశ దేహాయ చారు మంగళం

దేవకీ సుపుత్రాయ… దేవ దేవోత్తమాయ
బావజా గురువరాయ… భవ్య మంగళం

పుండరీకాక్షాయ పూర్ణచంద్రవదనాయ
అండజ వాహనాయ… అతుల మంగళం

విమలరూపాయ వివిధ… వేదాంత వేద్యాయ
సుముఖ చిత్త కామితాయ… శుభద మంగళం

రామదాసాయ మృదుల హృదయ… తామరస నివాసాయ
స్వామి భద్రగిరివరాయ సర్వమంగళం
స్వామి భద్రగిరివరాయ సర్వమంగళం

Ramachandraaya Janaka Raja Lyrics In English

Ramachandraya Janaka Raja Jaa Manoharaaya
Maamakaabheeshtadhaaya… Mahitha Mangalam ||2||

Kosaleshaaya Mandhahaasa… Dhaasa Poshanaaya
Vaasavaadhi Vinutha… Sadhwaraaya Mangalam

Chaaru Kumkumopetha… Chandhanaani Charchithaaya
Haarakataka Shobhithaaya… Bhoori Mangalam

Lalitha Rathnakundalaaya… Thilaseevanamaalikaaya
Jalaja Sadrusha Dehaaya Chaaru Mangalam

Devaki Suputhraaya… Deva Devotthamaaya
Baavajaa Guruvaraaya… Bhavya Mangalam

Pundarikaakshaaya Poorna Chandravadhanaaya
Andajaa Vaahanaaya… Athula Mangalam

Vimalaroopaaya Vividha… Vedhaantha Vedhyaaya
Sumukha Chittha Kaamithaaye… Shubadha Mangalam

Ramadaasaaya Mrudhula Hrudhaya… Thaamarasa Nivaasaaya
Swami Bhadragirivaraaya Sarwamangalam
Swami Bhadragirivaraaya Sarwamangalam

Watch Ramachandraya Janaka Song Video
Ramachandraya Janaka song frequently asked questions
Check all frequently asked Questions and the Answers of this questions
This Ramachandraya Janaka song is from this Lord Rama Mangala Harathi movie.
Ramadasu Keertanalu is the singer of this Ramachandraya Janaka song.
This Ramachandraya Janaka Song lyrics is penned by Ramadasu Keertanalu.