Albela Albela song lyrics penned by Bhaskara Bhatla, music composed by Sri Charan Pakala, and sung by Revanth, Sravana Bhargavi from the movie Ugram (2023).
---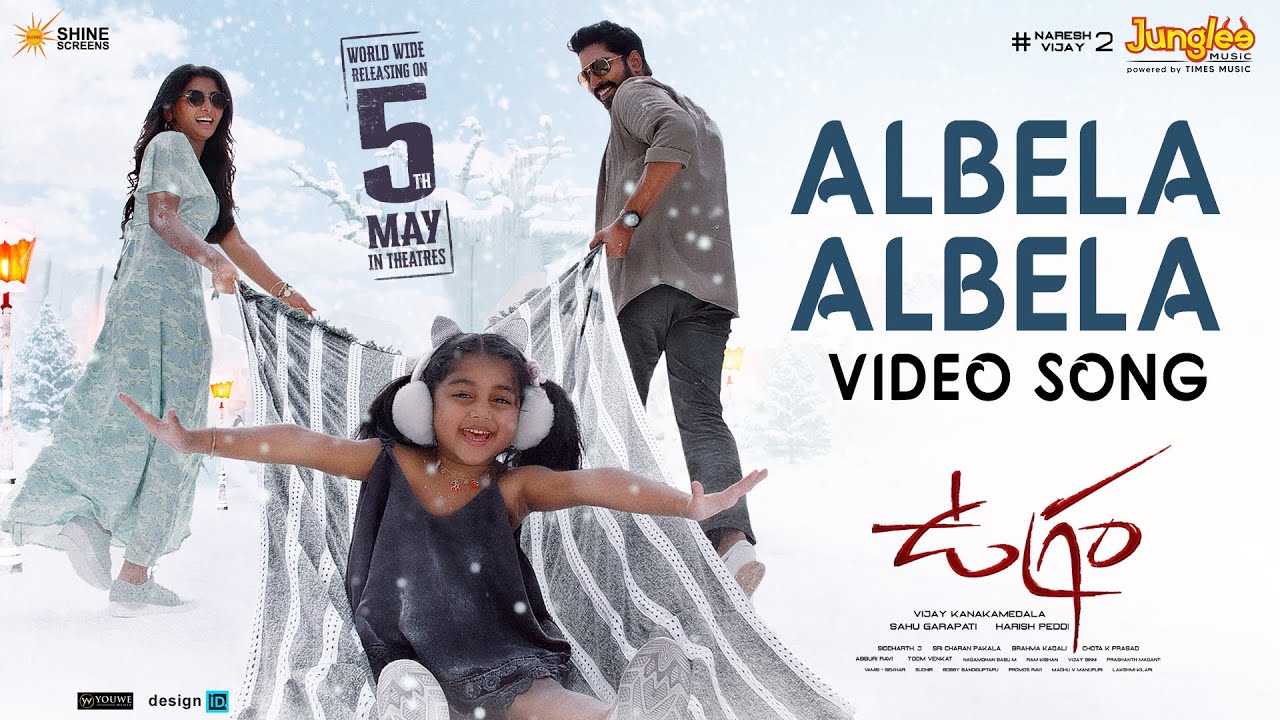 ---
| | |
| --- | --- |
| Song Name | Albela Albela |
| Singer | Revanth, Sravana Bhargavi |
| Music | Sri Charan Pakala |
| Lyricst | Bhaskara Bhatla |
| Movie | Ugram (2023) |
---
Albela Albela Song lyrics
Albela Albela Song Lyrics in English

Albela Albela Bela
Hulchal Cheddham Crazyga
Tension Ki Break Iddham Padhaa
Umbrella Needallaa
Chil Beer Ye Kodadhaam Public Gaa

Yettaago Dutylo Lemgaa
Ee Choti Choti SantoshalaThoti
Kaalam karigiddhaamilaa

Dubi Jubi Dhiba Long Drive
Dubi Jubi Dhiba Camp Fire
Dubi Jubi Dhiba Feel the High, Oove Oove
Dubi Jubi Dhiba Cloud Night
Dubi Jubi Dhiba Everything
Dubi Jubi Dhiba Thats Fine

Gundello Haayini Kannulo Kanipinchani
Jolly Gaa Mogani Love Symphony
O O Alalegise Horuni
Adugulalo Nimpani
Arachethi Vellapai Harivillugani

Alladdin'u Deepaanni Itte
Ye Moola Unnaa Patti Techhukundhame
Innaallu Teerani Saradhaalu Annee
Pattu Patti Teerchukundhame

Roju Ilaage Preminchukuntu
Aanandhamantha Ichi Puchhukundhame
Vandhella Dhaaka Prathi Kshanaanni
Andhamaina Pandagalle Maarcheddham

Albela Albela Song Lyrics in Telugu

అల్బేల అల్బేల బేలా
హల్చల్ చేద్దాం క్రేజీగా
టెన్షన్ కి బ్రేకిద్దాం పదా, (పదా)
అంబ్రిల్లా నీడల్లా
చిల్ బీరే కొడదాం పబ్లిక్గా

ఎట్టాగో డ్యూటీలో లేంగా
ఈ చోటి చోటి సంతోషాల తోటీ
కాలం కరిగిద్దామిలా

డుబి జుబి దిబ లాంగ్ డ్రైవ్
డుబి జుబి దిబ క్యాంప్ ఫైర్
డుబి జుబి దిబ ఫీల్ ద హై, ఊవే ఊవే
డుబి జుబి దిబ క్లౌడ్ నైట్
డుబి జుబి దిబ ఎవిరీథింగ్
డుబి జుబి దిబ దట్స్ ఫైన్

గుండెల్లో హాయిని కన్నుల్లో కనిపించని
జాలీగా మోగని లవ్ సింఫనీ
ఓ ఓ అలలెగిసే హోరుని
అడుగులలో నింపనీ
అరచేతి వేళ్ళపై హరివిల్లుగనీ

అల్లావుద్దీను దీపాన్ని ఇట్టే
ఏ మూల ఉన్నా పట్టి తెచ్చుకుందమే
ఇన్నాళ్లు తీరని సరదాలు అన్నీ
పట్టు పట్టి తీర్చుకుందమే

రోజు ఇలాగే ప్రేమించుకుంటూ
ఆనందమంతా ఇచ్చి పుచ్చుకుందమే
వందేళ్ల దాకా ప్రతి క్షణాన్ని
అందమైన పండగల్లె మార్చేద్దాం
Watch Albela Albela Song Video
Albela Albela song frequently asked questions
Check all frequently asked Questions and the Answers of this questions
This Albela Albela song is from this Ugram (2023) movie.
Revanth, Sravana Bhargavi is the singer of this Albela Albela song.
This Albela Albela Song lyrics is penned by Bhaskara Bhatla.