Thaimai song lyrics penned by Pulavar Pulamaipithan, music composed by GV Prakash Kumar , and sung by Bombay Jayashri from the movie Theri .
---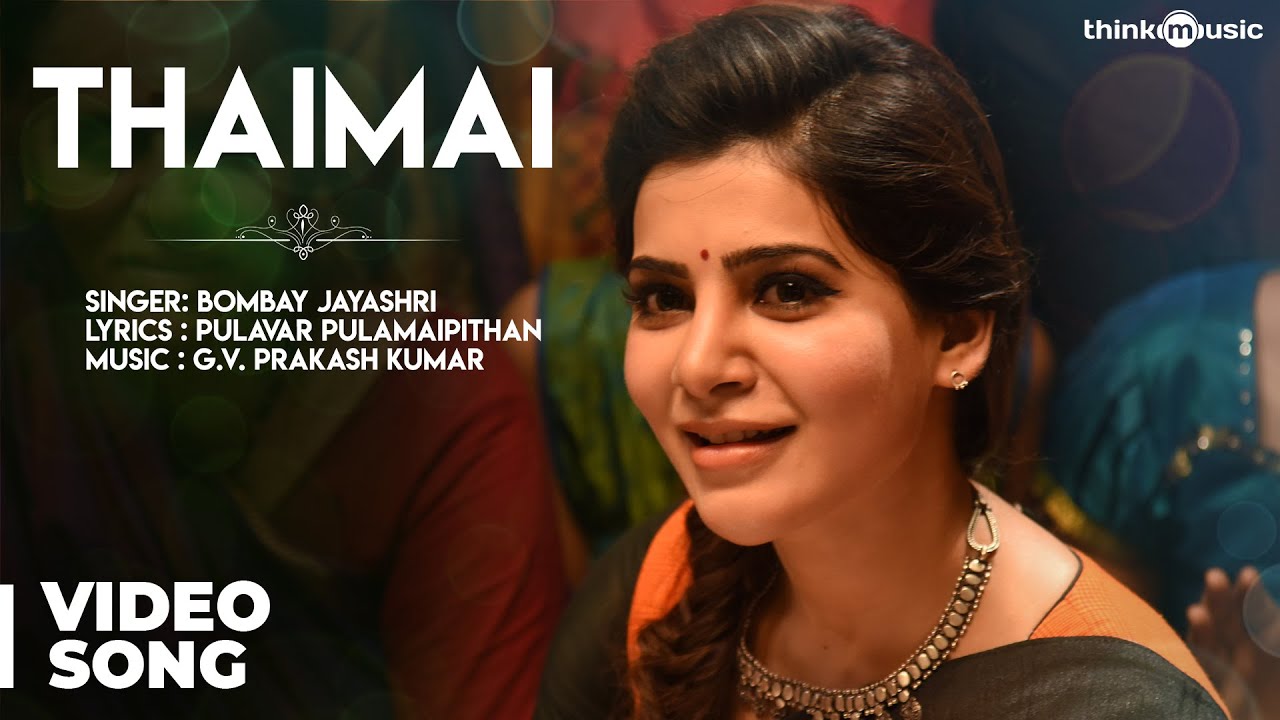 ---
| | |
| --- | --- |
| Song Name | Thaimai |
| Singer | Bombay Jayashri |
| Music | GV Prakash Kumar |
| Lyricst | Pulavar Pulamaipithan |
| Movie | Theri |
---
Thaimai Song lyrics
Thaimai Song Lyrics in English

Hmm hmm Hmmm
Thaimai Vaazhgena
Thooya Senthamizh
Ariraaro Haraaro
Thanga Kai Valai
Vaira Kai Valai
Ariraaro Haraaro

Intha Naalile
Vandha Niyabagam
Entha Naalum Maaratho
Kangal Pesidum
Mouna Baashayil
Enna Vendru Kooratho

Thaimai Vaazhgena
Thooya Senthamizh
Paadal Paada Mataayo

Thirunaal Indha Orunaal
Ithil Pala Naal Kanda Sugame
Thinamum Oru Ganamum
Ithai Marava Endhan Maname

Vizhi Pesidum Mozhi Thaan
Intha Ulagin Pothu Mozhiye
Pala Aayiram… Kathai Pesidum
Uthavum Vizhi Vazhiyae

Thaimai Song Lyrics in Tamil

தாய்மை வாழ்கென
தூய செந்தமிழ்
ஆரிராரோ ஹராரோ
தங்க கை வலை
வைர கை வலை
ஆரிராரோ ஹராரோ

இந்த நாளிலே
வந்த ஞாபகம்
எந்த நாளும் மாறாதோ
கண்கள் பேசிடும்
மௌன பாஷையில்
என்ன வென்று கூறாதோ

தாய்மை வாழ்கென
தூய செந்தமிழ்
பாடல் பாட மாட்டாயோ

திருநாள் இந்த ஒரு நாள்
இதில் பல நாள் கண்ட சுகமே
தினமும் ஒரு கனமும்
இதை மறவா எந்தன் மனமே

விழி பேசிடும் மொழி தான்
இந்த உலகின் பொது மொழியே
பல ஆயிரம் கதை பேசிடும்
உதவும் விழி வழியே

Watch Thaimai Song Video
Thaimai song frequently asked questions
Check all frequently asked Questions and the Answers of this questions
This Thaimai song is from this Theri movie.
Bombay Jayashri is the singer of this Thaimai song.
This Thaimai Song lyrics is penned by Pulavar Pulamaipithan.